Fund-raising new Stedelijk Museum Kampen
Client: Stedelijk Museum Kampen
Period: 2008
Details:  This project concerns the guiding of the fund-raising activities for the benefit of the multimedia tour and the new furnishings for the museum. The amount to be raised totals ca. EUR 350,000. In concrete terms, this involves the devising of a fund-raising strategy, establishing contacts with various culture funds and the formulation and guiding of the applications for funds. In addition, the firm provides advice about the recruitment of private sector sponsors and the compilation of sponsor packages.
Fund-raising for the Moluccan Barracks project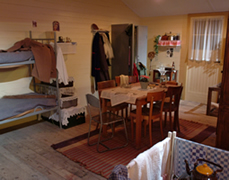 Client: Stichting Het Nederlands Openluchtmuseum/Stichting Herbouw Molukse Barak
Period: 2002
Details:  Formulation of the fund-raising strategy, guiding the execution of the recruitment campaign, establishing contacts with funds and sponsors, handling executive actions and presentations.
Result:   Within one year, the intended figure of EUR 1,000,000 had been raised for the complete rebuilding and furnishing of the Moluccan Barracks unit, a publication and for operating the building for a period of five years.